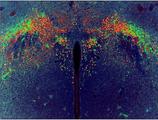 Neuroendocrinology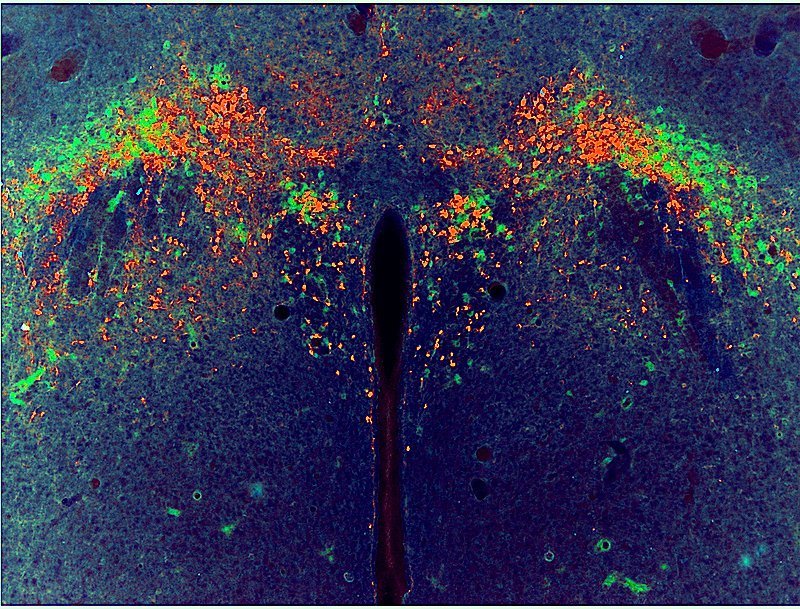 Activity
Hormones are among the most important environmental factors for the development, differentiation and functioning of the nervous system. In particular, our research group is interested in the interactions between steroid hormones, neural circuits and behaviours dependent on steroids, such as sexual behaviour and the behavioural response to stress.
Explaining these interactions can be crucial to understand the causes that lead to some behavioral disorders (anorexia, depression) or neurodegenerative diseases (Parkinson's, multiple sclerosis) in which there are evident gender differences, such that one sex has a greater prevalence or severity of the disease than the other.

In addition, a minimum alteration of hormone balances - determined by exposure to chemical compounds able to interact with their receptors - can induce harmful effects on the behavior and physiology of animals and humans.
The experimental studies in this field are useful to understanding what threshold values ​​may be acceptable and if certain dysfunctions can be caused by exposure to these environmental factors.
Our main research lines currently include:
- The role of androgens and estrogens in the differentiation of the brain circuits involved in controlling the reproduction and social behavior.
- The role of neurosteroids and some neuropeptides in affective disorders, in order to understand whether gender differences that occur in these diseases may have a basis related to the effects of endogenous neurosteroids.
- Short- and long-term effects of neurosteroids on adult sexual neurogenesis.

- Effects of Endocrine disruptors (xenoestrogen and xenoandrogen) exposure on the differentiation of brain circuits that control reproduction and feeding behavior.

Group's ECR Sectors:
LS4_3 - Endocrinology
LS4_5 - Metabolism, biological basis of metabolism related disorders
LS5_1 - Neuroanatomy and neurophysiology
Publications
Farinetti A, Tomasi S, Foglio B, Ferraris A, Ponti G, Gotti S, Peretto P, Panzica GC. (2015) Testosterone and estradiol differentially affect cell proliferation in the subventricular zone of young adult gonadectomized male and female rats. Neuroscience 286 162-70 [DOI PMID]
Grassi D, Lagunas N, Calmarza-Font I, Diz-Chaves Y, Garcia-Segura LM, Panzica GC. (2014) Chronic unpredictable stress and long-term ovariectomy affect arginine-vasopressin expression in the paraventricular nucleus of adult female mice. Brain research 1588 55-62 [DOI PMID]
Melcangi RC, Panzica GC. (2013) Neuroactive steroids and the nervous system: further observations on an incomplete tricky puzzle. Journal of neuroendocrinology 25(11) 957-63 [DOI PMID]
Melcangi RC, Panzica GC. (2014) Allopregnanolone: state of the art. Progress in neurobiology 113 1-5 [DOI PMID]
Allieri F, Spigolon G, Melcangi RC, Collado P, Guillamon A, Gotti S, Panzica GC. (2013) Androgen receptor deficiency alters the arginine-vasopressin sexually dimorphic system in Tfm rats. Neuroscience 253 67-77 [DOI PMID]
Grassi D, Lagunas N, Amorin M, Pinos H, Panzica GC, Garcia-Segura LM, Collado P. (2013) Estrogenic regulation of NADPH-diaphorase in the supraoptic and paraventricular nuclei under acute osmotic stress. Neuroscience 248 127-35 [DOI PMID]
Razzoli M, Bo E, Pascucci T, Pavone F, D'Amato FR, Cero C, Sanghez V, Dadomo H, Palanza P, Parmigiani S, Ceresini G, Puglisi-Allegra S, Porta M, Panzica GC, Moles A, Possenti R, Bartolomucci A. (2012) Implication of the VGF-derived peptide TLQP-21 in mouse acute and chronic stress responses. Behavioural brain research 229(2) 333-9 [DOI PMID]
Panzica GC, Balthazart J, Frye CA, Garcia-Segura LM, Herbison AE, Mensah-Nyagan AG, McCarthy MM, Melcangi RC. (2012) Milestones on Steroids and the Nervous System: 10 years of basic and translational research. Journal of neuroendocrinology 24(1) 1-15 [DOI PMID]
Frye CA, Bo E, Calamandrei G, Calza L, Dessi-Fulgheri F, Fernandez M, Fusani L, Kah O, Kajta M, Le Page Y, Patisaul HB, Venerosi A, Wojtowicz AK, Panzica GC. (2012) Endocrine disrupters: a review of some sources, effects, and mechanisms of actions on behaviour and neuroendocrine systems. Journal of neuroendocrinology 24(1) 144-59 [DOI PMID]
Panzica GC, Bo E, Martini MA, Miceli D, Mura E, Viglietti-Panzica C, Gotti S. (2011) Neuropeptides and enzymes are targets for the action of endocrine disrupting chemicals in the vertebrate brain. Journal of toxicology and environmental health. Part B, Critical reviews 14(5-7) 449-72 [DOI PMID]
Martini M, Sica M, Gotti S, Eva C, Panzica GC. (2011) Effects of estrous cycle and sex on the expression of neuropeptide Y Y1 receptor in discrete hypothalamic and limbic nuclei of transgenic mice. Peptides 32(6) 1330-4 [DOI PMID]
Genestine M, Caricati E, Fico A, Richelme S, Hassani H, Sunyach C, Lamballe F, Panzica GC, Pettmann B, Helmbacher F, Raoul C, Maina F, Dono R. (2011) Enhanced neuronal Met signalling levels in ALS mice delay disease onset. Cell death & disease 2 e130 [DOI PMID]
Bo E, Viglietti-Panzica C, Panzica GC. (2011) Acute exposure to tributyltin induces c-fos activation in the hypothalamic arcuate nucleus of adult male mice. Neurotoxicology 32(2) 277-80 [DOI PMID]